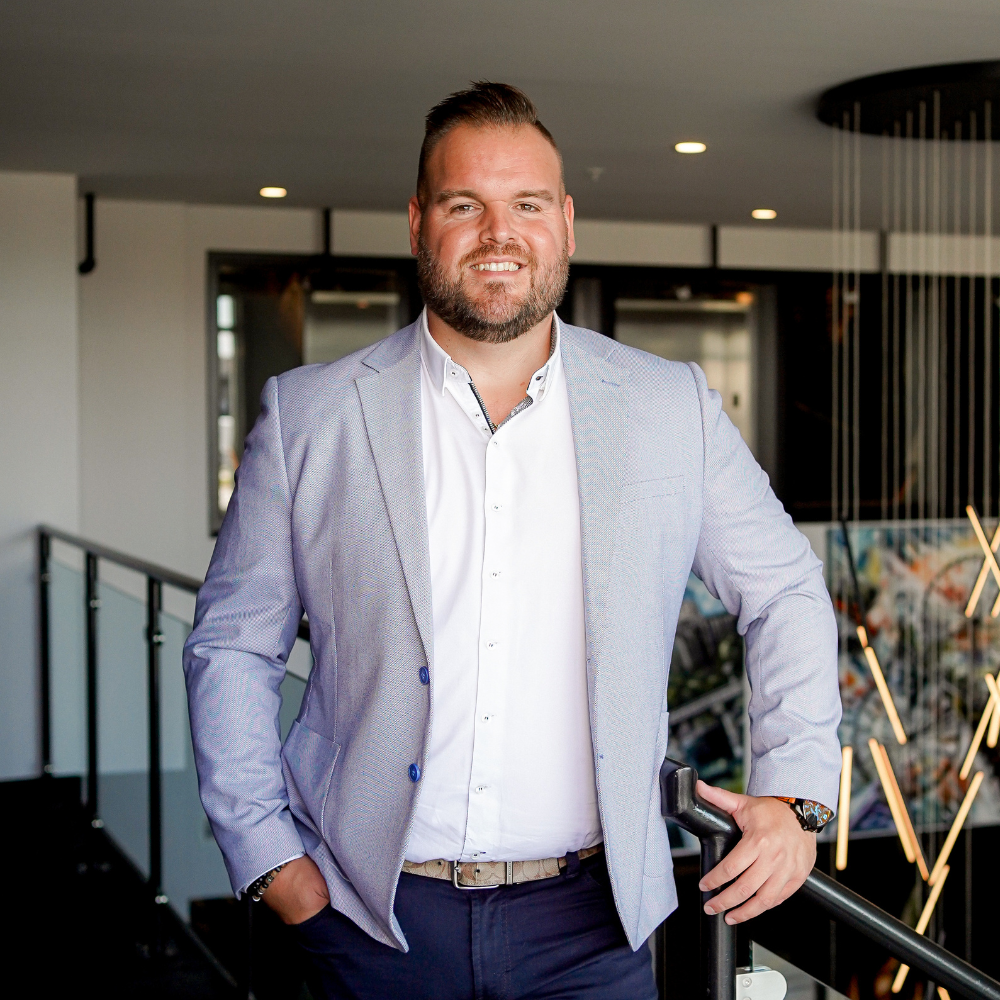 The Bruno Gilbert team
What is the perfect equation for working in real estate?

A turnkey service, a good ability to adapt? Among other things. Although these words describe us, as far as we are concerned.

We are the Bruno Gilbert team, real estate brokers at RE/MAX Bonjour. Every day is an opportunity to transpose our values of respect, collaboration and courtesy that we live by through our actions, both with our clients and among our team members. Accessible and transparent, we ensure that all projects are handled with a perfect balance of enthusiasm, realism and thoroughness.

Our dedication to the task, which betrays all the pride we feel to be part of such a structured and accomplished team, is explained by our deep conviction that results come with effort.

Upon reflection, our true nature as brokers is found in our humanity and integrity, principles that lead us to give the right answer, and this, in the highest goal of professionalism.

We are waiting for you with a smile on our face and ready to take on your challenge.


---
Contact us
Bruno Gilbert

Residential Real Estate Broker

Bruno Gilbert courtier immobilier inc

They say that few decisions made on the spur of the moment turn out to be successful. Well, I guess I'm the exception to the rule. Let me tell you why.

For as long as I can remember, I've learned to go with my gut and follow my instincts, thus forging my ability to adapt. Naturally, among the good and bad decisions, one led me into the real estate business. Years later, I am still practicing my passion, with no regrets on the horizon.

My name is Bruno Gilbert, residential real estate broker at RE/MAX. Every day is an opportunity to transpose the values of respect, collaboration and courtesy that I live by through my actions, both with my clients and my team. Accessible and transparent, I ensure that all projects are handled with a perfect balance of enthusiasm, realism and rigor.

My dedication to the task, which betrays all the pride I feel to be the leader of such a structured and accomplished team, is explained by my deep conviction that results come with effort. First in, last out!

On reflection, my true nature as a broker lies in my humanity and integrity, principles that lead me to give the right information, and this, with the greatest of professional goals. I am waiting for you with a smile on my face and ready to take up your challenge.

Cynthia Couture

Residential Real Estate Broker

Wherever my professional life has taken me, there has always been a common denominator: putting the client first. Let's just say that the real estate broker's path follows the same direction, with one exception.

My name is Cynthia Couture. My priority? The human behind the transaction. I love challenges and I certainly have energy to spare (and a ton of puns)! From early childhood educator to retail sales, fun has always been an important part of my daily life. However, my journey through adversity has shaped the woman I am today.

In fact, I still wear many hats today, single mother being one of them. My rigor, my empathy and my great generosity stem directly from this. Convinced that each story has its own DNA, I make sure I know my clients' stories in order to better guide them and negotiate skillfully in their best interest. To ensure this, I offer them a personalized service where listening, humor, collaboration and curiosity reign.

If being part of a team allows me to embody one of my greatest values, loyalty, on a daily basis, it manifests itself through each relationship I develop with my clients. This makes me an approachable and trustworthy broker.

Above all, I am authentic and in love with the public. My work remains the best way for me to fulfill myself in everything that is important to me: being myself, surpassing myself and making a difference in people's lives. In yours, perhaps?

Gabrielle Blais

Residential Real Estate Broker

Simple. Real. If you only remembered that part, you'd almost know me by heart. Unless you have a minute? My name is Gabrielle Blais, a real estate broker with the Bruno Gilbert

team.My career has taught me at least one lesson: take the time to do things right. My decisions are well thought out, and whether it's in sports or in the arts, I've distinguished myself by applying it to the letter. The result? An imperfect trajectory, perseverance and a huge smile. Because yes, in my eyes, happiness is found in adversity as well as in the little things. But sometimes, it takes the form of residential projects. My goal? To make them happen without complicating your life.

There is no doubt that working with me means accessibility. If my energy is contagious, my non-judgmental and open-minded attitude makes every interaction rewarding. Human. And with a dose of honesty and efficiency, the outcomes always reflect the needs of my clients, without wasting time.For me, gratitude and humility are among the values

I hold most dear. I am therefore grateful to be in a profession where trust is essential. New to this field, I let my deep generosity, my authenticity and my joie de vivre lead me to my professional fulfillment.

And who do I meet on my way? You, who know me (almost) by heart.

I only ask to return the favor

Steven Pimenta

Real Estate Broker

Steven Pimenta Inc.

What happens when you combine experience, passion and perseverance? A story that sounds a lot like mine. My name is Steven Pimenta, real estate broker for the Bruno Gilbert team.

If my 16 years in the real estate brokerage business have given me experience, knowledge and tools, they have also given me a sense of the person I want to be every day. Friendly, approachable and extremely thorough, I approach each transaction as the result of a privileged relationship based on trust, cooperation and proximity. My role as a father and the values of family, respect and honesty that I hold are key factors in this.

To say that I am a passionate person is an understatement. I've always been attracted to houses, structures and working with the public. Is this what being on your X is all about? Every day I share my clients' challenges and make them my priority, in simplicity. I listen and use my honesty as my best weapon, without ever sacrificing my humanity.

Yes, my patience and perseverance have seen me through the changes in the real estate world. But there is one thing that has not changed: the formula that makes me who I am.

Now that you know it, all you have to do is benefit from it.

Gabrielle Forest

Residential Real Estate Broker

Gabrielle Forest Courtier Immobilier Inc.
Bruno Gilbert

Cynthia Couture

Gabrielle Blais

Steven Pimenta

Joël Langevin

Gabrielle Forest

Samantha Rizkalla
Latest Properties
---
Loading
Testimonials
---
Bruno is an absolutely exemplary real estate agent. My condo was put on the market on December 25th and sold 3 days later. Not only was Bruno extremely accommodating and efficient, but he also listened to my needs. If you are looking for a dedicated, hard working, friendly agent who wants the best for his clients, look no further! Bruno will meet your expectations and more!
An agent who was always available, professional and attentive to my needs and who accompanied me from beginning to end in our transactions. I sold 2 houses and bought 2 new properties with him. Definitely the best broker I've ever met!
Bruno is very competent, available and attentive!
Thank you Bruno & Maxime ! We couldn't have asked for better service, you guys are amazing!!! Thanks for everything again, we can't wait to start our new adventure in our big beautiful house ♥️
Very honest and transparent service. Very reactive in the requests. Great availability!
When we sold our house, Bruno Gilbert was strongly recommended to us by friends who did business with him. Bruno stands out by his great professionalism, his availability and his great attention to our needs (we bought with him afterwards). He took care of all aspects of the transaction so that we could have a clear conscience. We also referred 3 other members of our entourage who wanted to sell their homes to him and they were all as satisfied as we were. For us, Bruno Gilbert will always be our broker! Translated with www.DeepL.com/Translator (free version)
I sold my condo with Bruno in only 7 days! He knew how to listen to my expectations and meet them. Available, efficient, present and above all VERY human! I recommended Bruno to several people and they were all very satisfied. We can trust him with our eyes closed, he works for us! I recommend him with my eyes closed!
Thank you so much for the exceptional service. If you want to deal with a professional, efficient and knowledgeable broker you should choose Bruno Gilbert. Our house received several offers and sold quickly.
We are really satisfied with the service we received from Bruno! He is a big Wow from the beginning to the end! He is very professional and always available to answer our questions. He knew how to advise us in our purchase and sale transaction. Do not hesitate to do business with him you will not regret it!
We bought our first house with Bruno and we are completely satisfied! He took the time to advise us and was always available to help us. I highly recommend him!
Properties recently sold
Loading
Discover the RE/MAX programs
Follow us on Facebook
Like our page and be the first to be informed about our latest news and exclusivities.
Visit our Facebook page